DRILL PRESS TRI-ROLLER SWAGING TOOL (AST-DP)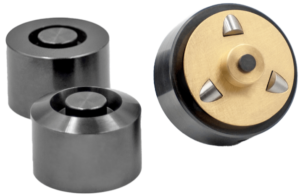 Drill press or Bridgeport type machine driven tool using the Tri-Roller concept of flaring the lip of a grooved bearing onto the chamfer area of its housing.
Drill press swaging tools can be mounted in regular ½" quills, collets or chucks.
Drill Press Tri Roller Swaging Tools are innovative instruments designed for precision metalworking. Combining the functionality of a drill press and the efficiency of tri-roller swaging, they ensure seamless connections and secure joins for pipes and tubes in diverse applications.
The Tri-Roller Swaging Tool, designed for a drill press, precisely shapes and secures materials with versatile applications and efficiency.